This past year has been pretty crazy, life-wise. We've had quite a
few twists and turns
; many were life-altering, most were unexpected. Some were devastating.
We needed a break, bad. A getaway. SOMETHING. We traveled a lot last year for weddings, and sometimes would extend the trip to include a weekend. Those were GREAT, but since we had jobs at so many of the weddings we didn't really get to enjoy the time. What we needed was a REAL getaway. A three-day weekend, longer if possible!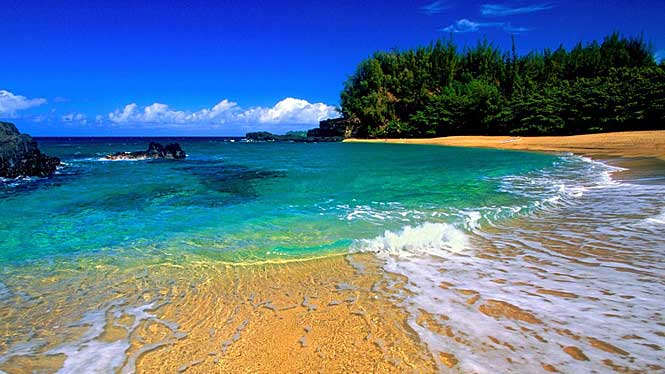 Lumahai Beach, Kauai via
Then, things started adding up. My good college friend, Alanna, gets engaged and books her wedding on her home island of Kauai. Flights would be expensive, but we knew that we wanted to be there for her, or at least I would go. We would figure it out. Another wedding weekend getaway.
Could we both do it? Could we EXTEND it? You know, make the cost of the flight work double-time, a wedding and a vacation?
Aerial view of Lihue, Kauai via
The cost for the flight was painful for two people, but once our friend started getting really serious with her boyfriend, we started saving. By the time she got engaged, we knew we both could probably go! Another obstacle down.
Then,
Tim lands a new job with a new company
, and he was given an extra five days of vacation time as a signing bonus. Which is paid, by the way, as vacation days are. FIVE! We could do a whole week, if we could find a good enough deal that wouldn't cut into our plan of saving for a home.
So I start researching. Just to see.
The final detail closed in a few weeks ago, and we were blown away.
The Lord provided :)
A commission check we'd forgotten all about (from Tim's old job) arrived at our house, a check that would allow us to cover our whole trip and still have some left over to put into our savings. Seriously, praise God!
Vacation in Kauai 2014 just got booked. This is so happening. Seven days, six nights in paradise, with a great friend's wedding in the middle. All completely provided for. Can't get better than that.
Have you ever had the pieces for a plan fall together like that before?
Any recommendations about what to do while we're on Kauai?